Systems Testing Update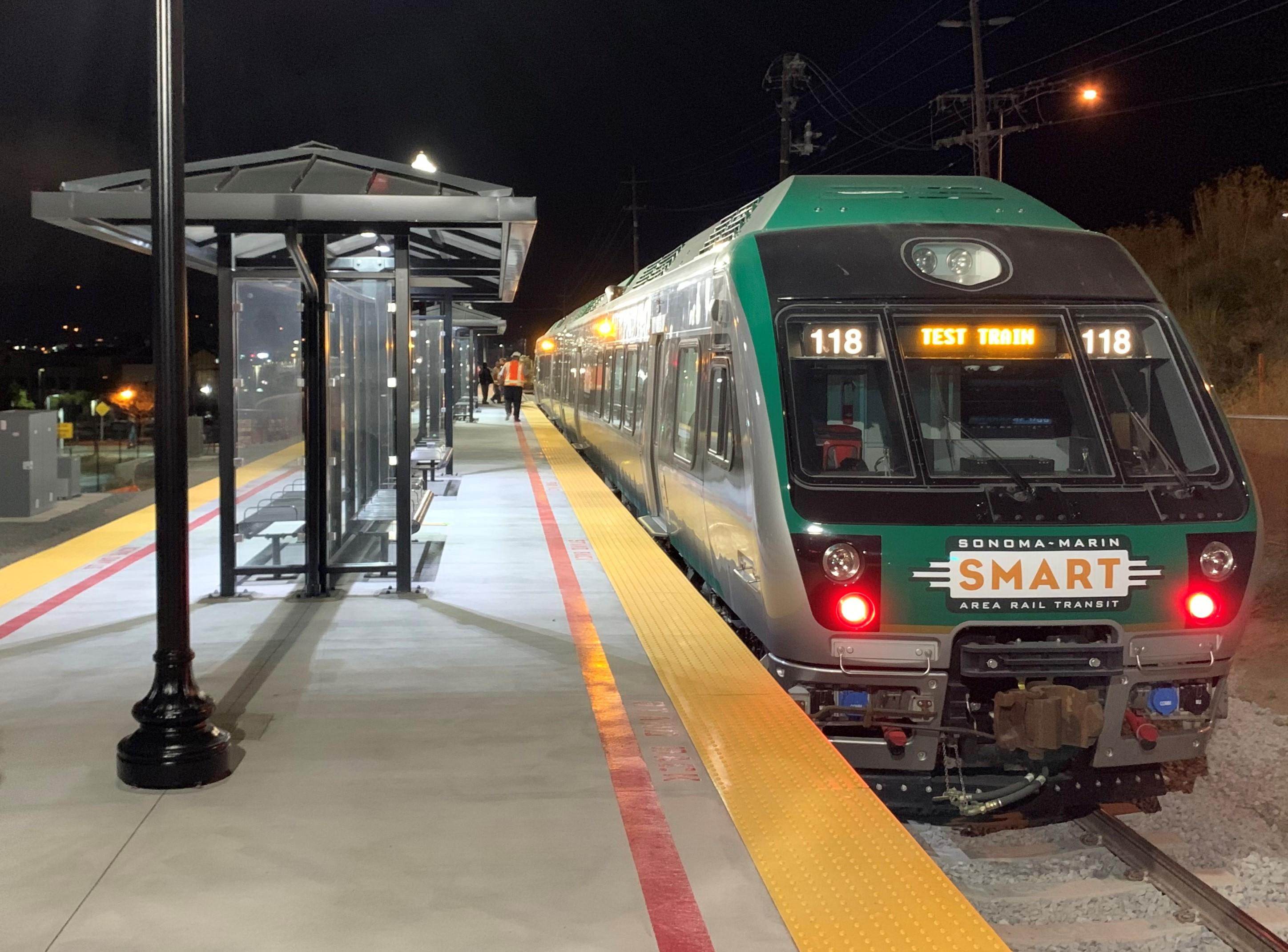 Wednesday, October 16, 2019 - 7:00am
SMART is getting closer to opening its extension to Larkspur and is testing the train control and railroad crossing warning systems along the newly constructed portion of track from San Rafael to Larkspur. Regular updates on the testing schedule will be posted here as they become available.
UPDATED 10/16/2019
Upcoming overnight operations:​
Limited pre-revenue operations in San Rafael are scheduled for this coming Saturday, October 19, 2019. The hours of operations are scheduled from approximately 5:00 p.m. to 11:00 p.m. Operations will occur from the Larkspur station to Myrtle Avenue (near the south portal of the Puerto Suello Tunnel), including the 4th Street,  5th Avenue, and Mission Avenue railroad crossings.​
As a part of the pre-revenue and testing process, you may see crossing gates and bells activated without a train an hour before the beginning and end of each systems testing session. 
We understand that the use of the train horn may be disruptive, and we appreciate your patience as we work hard to complete this testing phase as efficiently as possible. Please note, there may be additional testing nights depending on test results. Thank you for your understanding as we strive to ensure the long-term safety of our community. For more information, please call (707) 794-3077 or email info@SonomaMarinTrain.org.
FAQs regarding passenger rail operations:
Q: Why is SMART sounding its train horn at railroad crossings?
The Federal Railroad Administration (FRA) requires SMART to sound train horns at railroad crossings. (See 49 Code of Federal Regulations 222).
Q: Are there any applicable exception to the FRA's requirement that SMART sound the horn at crossings during testing?
No. There are no applicable exceptions to the FRA's requirement that SMART sound the train horn at crossings during testing; this has been re-verified with the FRA.
Q: Why can't SMART perform pre-revenue operations and testing during the day?
There is less pedestrian and vehicular traffic at night.
Trains would be crossing San Rafael's 2nd, 3rd, Andersen and Rice Drive numerous times a day during heavy traffic periods, further aggravating day time traffic congestion.
SMART cannot run revenue service and concurrently test the new crossings and systems.
Q: Why can't the testing or operations be done before midnight?
SMART completes its last revenue run at 9:42 p.m. on weekdays and 9:57 p.m. on weekends. SMART maintenance crews must then inspect and maintain the trains and system as required by the FRA. After the trains have been inspected, the trains and system must be changed for testing and returned to San Rafael to begin testing along the Larkspur extension at around 11:30 p.m. When testing has been completed for that night, the process is then reversed, and the trains return to the Rail Operations Center in Santa Rosa, prior to the start of revenue service at 4:19 a.m.  
Q. Would a Quiet Zone restrict the sounding of the train horn at a crossing during testing?
No. SMART would still be required to sound the train horn during testing and certification of a crossing.
Testing will be an intermittent process of collecting test results and making adjustments to each railroad crossing to ensure reliability, and therefore, the public's safety. There may be some nights when testing does not occur as we analyze test results, and there may be consecutive nights of testing, which get us closer to the goal of completing the testing process as efficiently as possible, and opening service to Larkspur.