Construction Updates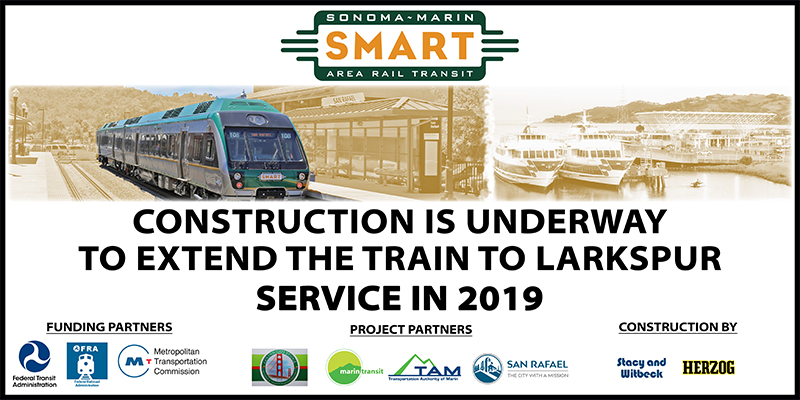 SMART Larkspur Extension Project
SMART has begun construction of its extension to Larkspur. The project includes a terminal station in Larkspur, three bridges and utilizes the recently (2010) rehabilitated Cal Park Tunnel that connects San Rafael and Larkspur. Signals and systems testing will be conducted following construction. SMART trains service to Larkspur is projected to begin by the end of 2019.
For more information about the Larkspur Extension Project - call the Larkspur Extension Project Hotline: 800-959-8660.
Road Closure Notice: Intersection at Andersen Drive and Francisco Blvd. W.: The Andersen/Francisco W. intersection closure has been postoned per direction of the CIty of San Rafael.
Road Closure Notice: Francisco Blvd. W.: Beginning on Thursday, July 5, Francisco Blvd. W. will be closed between 2nd St. and Rice St. as a part of SMART's construction of the Larkspur rail extension. This section of Francisco Blvd. W. will be closed through the end of 2018.
SMART Pathway Construction Project
SMART continues to work on the construction of its multiple-use pathway system. Currently, over 15-miles of pathway segments have been built by SMART or by a local jurisdiction working in partnership with SMART – from Healdsburg to Larkspur. To view a progress map of the pathway, please click here.
SMART has completed the following segments:
Healdsburg: Front Street to Grant Street,
Santa Rosa: Sixth Street to Guerneville Road,
Rohnert Park/Cotati: East Avenue to Golf Course Drive.
Rohnert Park: Sonoma Mountain Village to the Cotati SMART Train Station,
Southwest Santa Rosa: Hearn Avenue to Bellevue Avenue, with pathway connections to Downtown Santa Rosa SMART Station.
Novato/Petaluma: SMART Novato San Marin Station to County Line,
Novato: Rush Creek Place to SMART Novato San Marin Station,
Novato: SMART Novato Hamilton Station to Hamilton Parkway,
Novato: Franklin pedestrian crossing (near Sutter Health) to Grant Street in downtown Novato (future Novato Downtown Station),
San Rafael: North San Pedro Road to SMART Marin Civic Center Station,
San Rafael: Merrydale Road to Mission Avenue.
SMART is currently working on pathway between Southpoint Boulevard and Payran Street in Petaluma. The design for this section of pathway is completed and permitting is currently in progress. SMART anticipates completion of this section of pathway by the end of 2018.