Construction and Maintenance Updates
Pathway construction - McInnis Parkway to Smith Ranch Road
SMART contractor Ghilotti Bros. Construction has recently begun work building a new bicycle/pedestrian pathway between McInnis Parkway and Smith Ranch Road. The pathway will be constructed on the east (airport) side of the tracks. See map below with construction zone shown in red.
Work will occur Monday-Friday, 7 a.m.-7 p.m. As a part of construction, neighbors can expect dust and noise, including train horns.
As required by Federal Railroad Administration (FRA) regulations, trains will be sounding the horn when approaching areas where construction workers are engaged near the tracks.
Please visit this webpage for updates. For more information, call (707) 794-3330 or email us at: info@sonomamarintrain.org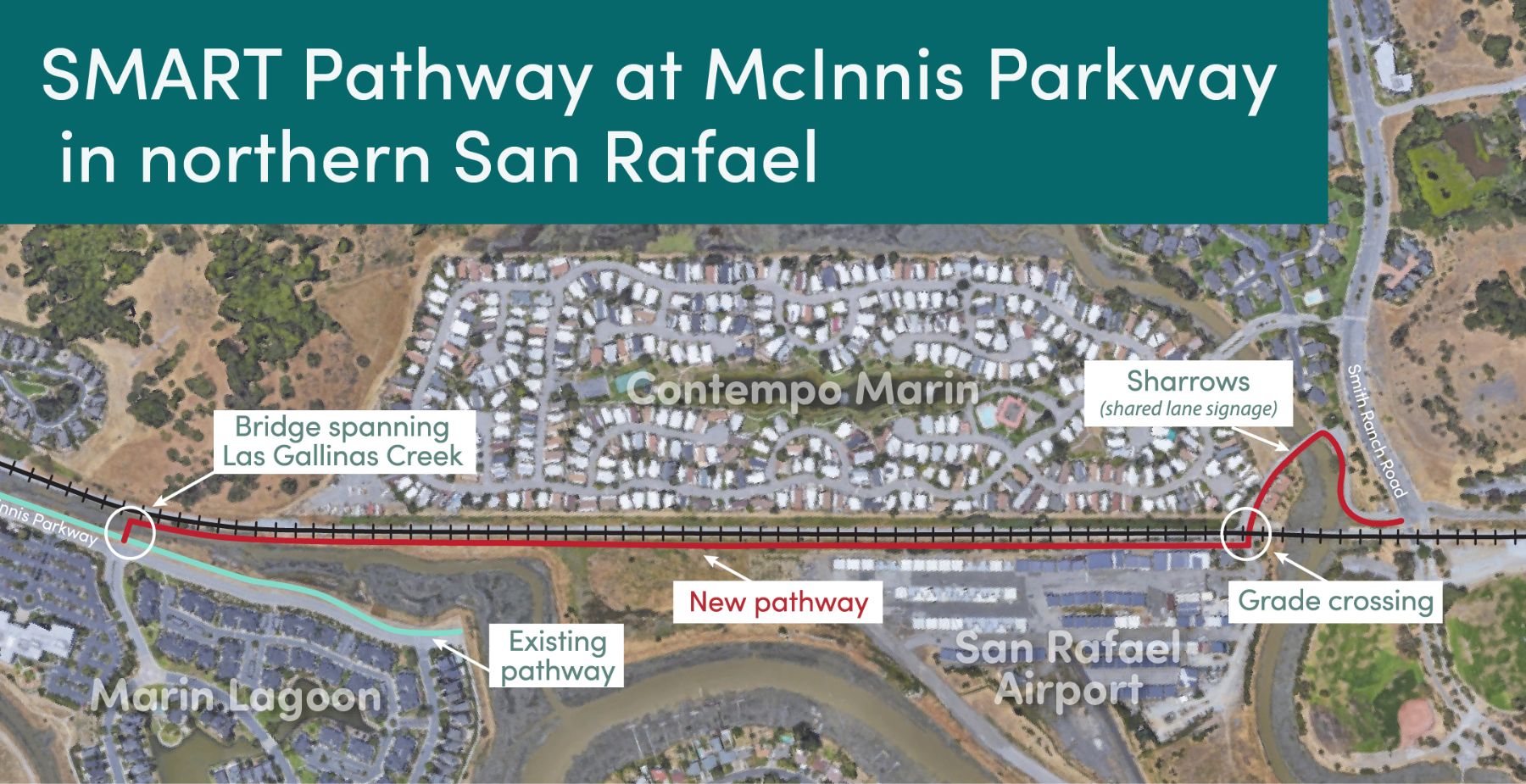 ---
SMART Pathway Construction Projects
SMART was selected to receive a $12.6 million grant to fund its bicycle and pedestrian pathway project in Petaluma, Rohnert Park and Santa Rosa. For more information on SMART Pathways, please click here.
SMART has completed the following segments:
Healdsburg: Front Street to Grant Street
Santa Rosa: Sixth Street to Guerneville Road
Rohnert Park/Cotati: East Cotati Avenue to Golf Course Drive
Rohnert Park: Sonoma Mountain Village to the Cotati SMART Train Station
Southwest Santa Rosa: Hearn Avenue to Bellevue Avenue, with pathway connections to Downtown Santa Rosa SMART Station
Novato/Petaluma: SMART Novato San Marin Station to County Line
Novato: Rush Creek Place to SMART Novato San Marin Station
Novato: SMART Novato Hamilton Station to Hamilton Parkway
Novato: Franklin pedestrian crossing (near Sutter Health) to Grant Street in downtown Novato (future Novato Downtown Station)
San Rafael: North San Pedro Road to SMART Marin Civic Center Station
San Rafael: Merrydale Road to Mission Avenue
---