Get Connected to San Francisco
Arrivals and departures of SMART trains at the Larkspur station are timed with Golden Gate Transit's Larkspur Ferry heading to and from San Francisco. Get connected to San Francisco with these great deals for train and ferry combo tickets:
$12 Sail & Rail Combo Ticket
Traveling between Sonoma, Marin, and San Francisco just got easier and more economical. For a flat rate of $12, riders can purchase a one-way combo ticket for travel on the Larkspur ferry and train. Riders can now connect to San Francisco for much less than the cost of gas, bridge tolls and parking fees. The new combo ticket is ideal for travel during noncommute hours and for leisure trips.
The Sail & Rail combo ticket may be used anytime on Weekends and Holidays.
On Weekdays the combo ticket is available for any SMART train and during the following times for ferry trips:
Weekdays southbound departing Larkspur by ferry any time after 8:20 AM
Weekdays northbound departing San Francisco any time before 3:30 PM
The Sail & Rail combo ticket is only available for purchase using SMART e- Ticket App.
Weekender Pass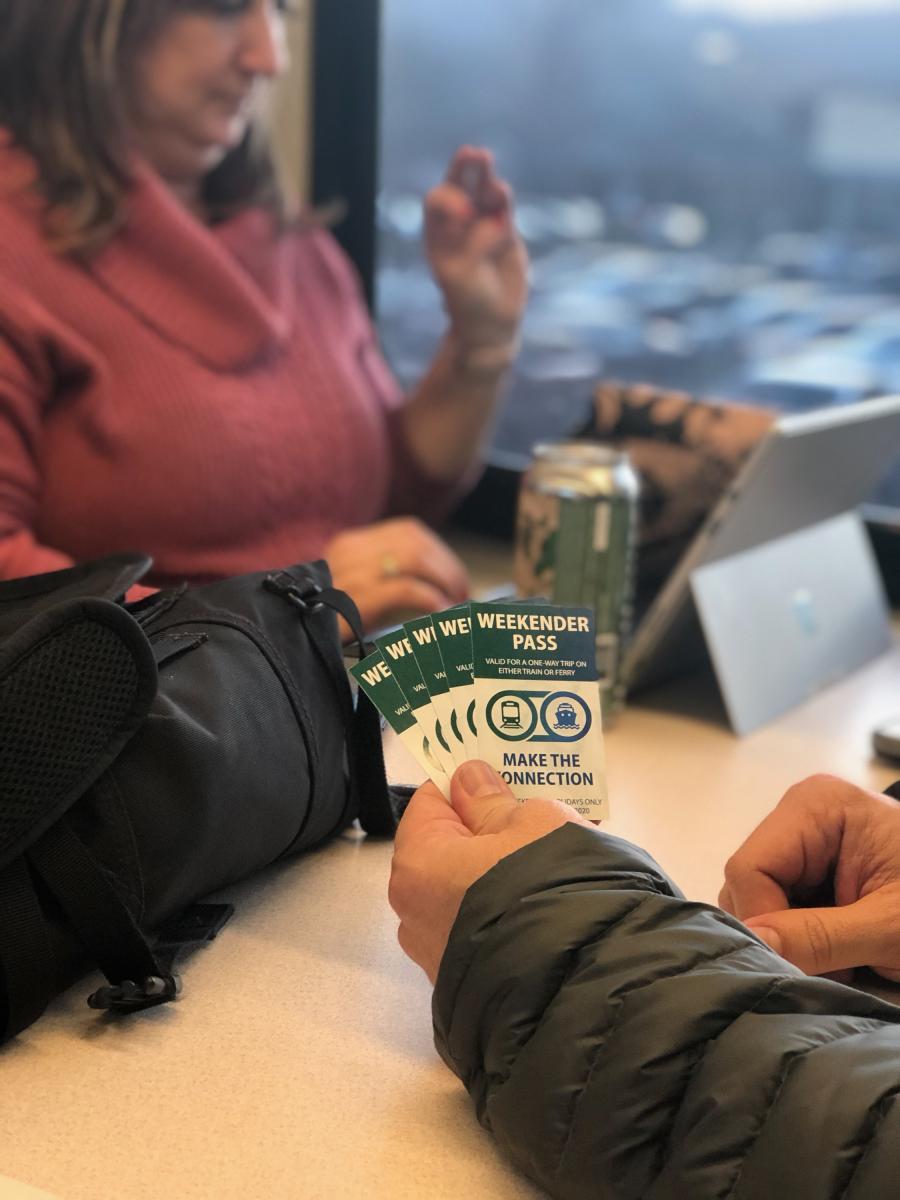 Winter weekends and holidays are full of fun possibilities with free transfers between the ferry and the train during January and February, 2020. In celebration of the new Larkspur station, SMART and Golden Gate Transit are offering free transfers between the two services on weekends and holidays. With the purchase of a ferry ticket heading north into Larkspur, riders can get a Weekender Pass that is good for a free trip on the SMART train. Similarly, with purchase of a train fare heading south into Larkspur, riders can receive a Weekender Pass good for a free Ferry trip into San Francisco.
Ask your SMART train conductor or ferry attendant for a Weekender Pass on your next trip.